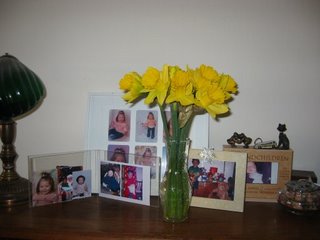 YES! I am FREE!
The dishes are all done
Those dang child proof locks are off the cabinets
Fingerprints have been removed from TV
Roll top desk is appropriately rolled down to hide all those nasty old bills
The toilet seat is down where it belongs
Toys are all stacked in the corner
Trash emptied
Laundry done
Everything vacuumed and dusted
Trash including all those leftovers that "someone promised to eat" in dumpster
One more job to do... remove that yucky bathtub ring and then...
It's candles, soft music, chocolate, bubble baths, and two nights out with my best red hatting friends!
And to think... they left these daffies for me...
Oh my, I am sooooooooo shrewd. But I deserve it.